Creator of tailor-made recipes
We leverage years of our culinary expertise to create, prepare and produce frozen food solutions tailored to our customers' specifications and wishes.
Whatever the stage of your project, we can leverage our specialist know-how and thorough knowledge of the markets to offer you personalised support.
Quiches, savoury tarts, filled crêpes, filled pancakes, gratins, etc., are some of the frozen specialities that we prepare for you with extreme care and dedication.
our role is to design, create, cook and manufacture recipes that suit you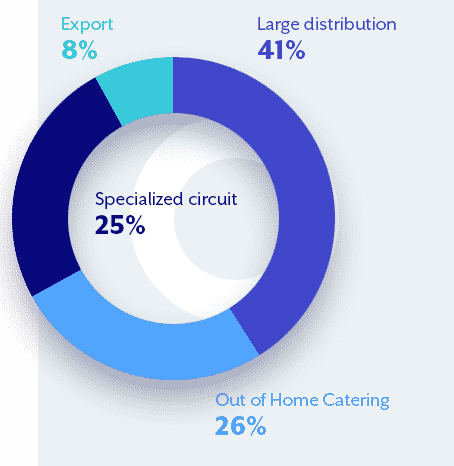 Our business areas
The company works with different distribution networks and many customers with specific needs and constraints :
Retail channels: In France or abroad, private label or own brand
Retail channels specialised in organic (BIO) food: In France or abroad, private label or own brand
Frozen food specialists
Out-of-home, collective and commercial catering
Co-packing = production on behalf of (inter)national brands
We adjust our product ranges (recipes, sizes, etc.) to suit the idiosyncrasies of each of these channels and develop tailored recipes for our customers.
Our craft
Innovation and professionalism at the heart of our strategy
Our mission is to create, update and prepare recipes while focusing on 3 objectives :
We integrated key functions within the company:
A chef
A chef works alongside the R&D team. They combine their creativity, skills and talent in food preparation to develop innovative recipes and improve the existing ones.
The Marketing department
It identifies trends, consumer expectations and customer requirements in order to best meet the needs of all stakeholders.
The R&D department
With its nutrition expertise, the R&D department makes sure healthy and balanced products are developed. In addition, our R&D engineers take care of the industrialisation aspect, from the kitchen to the factory, to ensure that the recipes created in the laboratory are faithfully reproduced on our production lines.
The Packaging department
The Packaging department is constantly improving our packaging: it seeks and suggests solutions that are more sustainable and ecological, in line with the expectations of society and our customers. It keeps optimising aspects of practicality and functionality in packaging in order to meet changing consumption habits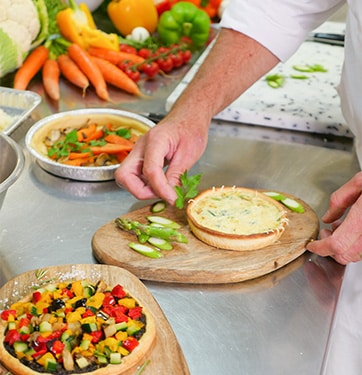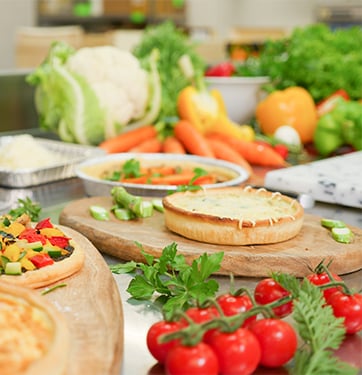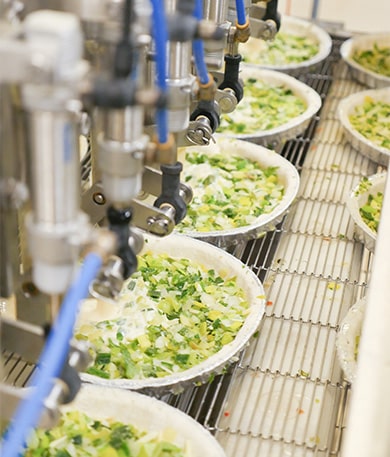 Bakery workshop :
all our short crust and puff pastry is freshly made from scratch. The workshop is equipped like a bakery: a kneader to mix the flour, water and eggs and knead the dough, a pastry machine to spread and stretch the dough.
Kitchen workshop :
In this workshop, we cook our sauces (béchamel, pie fillings, etc.) as needed and also sauté our vegetables, bacon, etc., reproducing the same steps as in the kitchen.
Garnishing and slicing workshop :
We receive our wheels of fresh cheese, vegetables, whole hams and bacon in blocks, which we slice in our cutting workshop in order to work with the freshest possible materials and to cut them into various shapes: cubes, slices, strips, discs, etc.
Cooking ovens :
After the garnishing stage, the products are cooked in our ovens, allowing us to obtain a nice surface browning and the right degree of cooking for each recipe. We prefer to work at low temperatures to closer replicate cooking at home.
Deep-freezing :
Products are then sent to our deep-freezing cell, a much faster cooling technique than conventional freezing, which retains all the intrinsic qualities of the products (nutrients, texture, etc.)
Packaging workshop :
Once deep-frozen, products enter the packaging workshop, an extension of the freezing cell.
Storage and shipping :
Packaged products are stored on site before being shipped from our warehouse to our customers.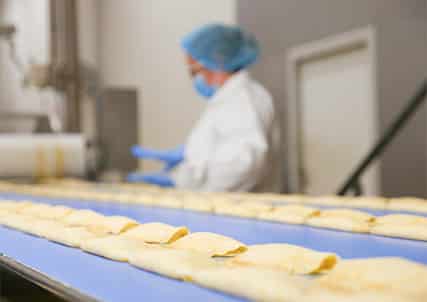 Did you know ?
Can you tell the difference between freezing and deep-freezing?
Continuous Improvement
and Operational Excellence
At every corporate level, we advocate the Continuous Improvement of processes which we have implemented with the relevant experts. This has allowed us to develop measurement and analysis tools which gradually help us reduce waste and focus our efforts solely on customer satisfaction.
Quality, Human and Food Safety, Working Conditions, Sustainable Development etc. are all areas in which we implement this approach, with the aim of achieving Operational Excellence.
This very Operational Excellence is what allows us to offer products that are both attractive and good, healthy and safe, while maintaining the necessary competitiveness to reinvest and ensure that our tools remain the state of the art.